As we evolve into a more technologically advanced civilization, our current yet 'futuristic' tendencies are trickling down into our design aesthetics. Modern technology and its sleek look is reflected in the way we design our homes, and this is ever so evident in newer kitchens. You'll see clean lines, lots of stainless steel, minimalist finishes and space saving functionality.
We've gathered some great looks and design tips for creating the perfect modern kitchen; with cabinetry styles, material choices and color options. The goal of a modern kitchen is to provide all of the necessities that a kitchen needs, with a refinement and subtlety that allows for an open and bright space, where natural elements are mixed with more modern materials.
CABINETRY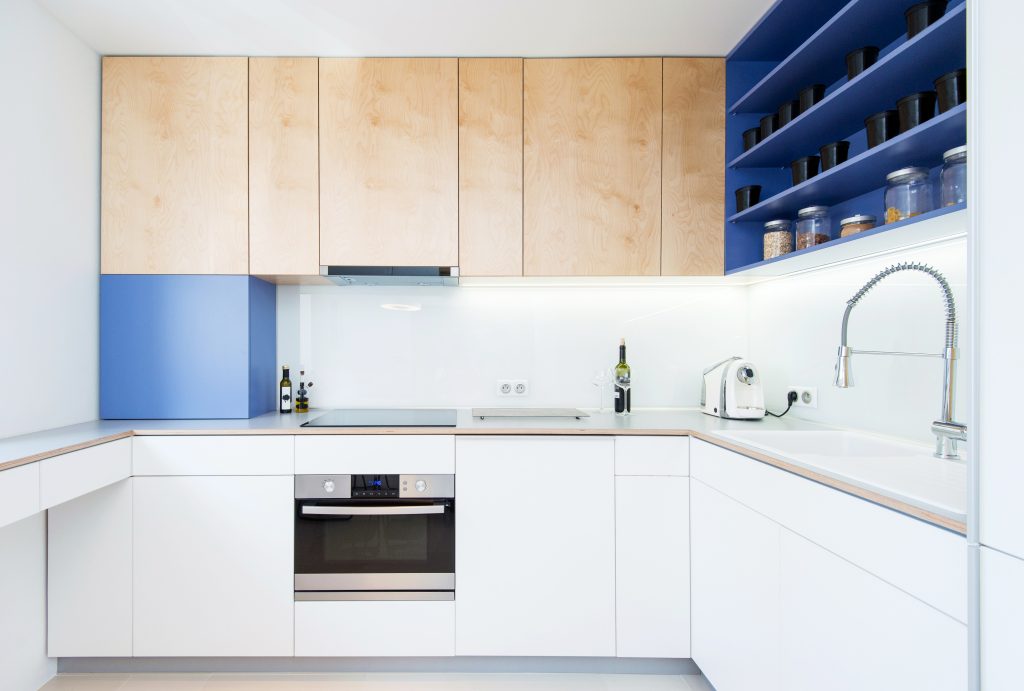 We've seen cabinet styles evolve a lot in the last decade or two. We've gone from variations of richly colored wood with intricate designs and prominent knobs and handles, to smooth and sleek cabinetry with no handles at all. There is something on the spectrum between these two extremes for everyone, and choosing cabinetry is one of the most important design decisions when remodeling a kitchen. The reason why kitchen cabinets are becoming more simple and sleek is because it gives the space a clean look with better flow. White and light colored wood is very popular, as is mixing light colors with bolder, more rich colors for a dual-toned cabinet look. Another trend is custom refrigerators and ovens that are made to blend in with the cabinetry, so there's a continuous flow not being interrupted by stainless steel or otherwise. 
GLOSS & STONE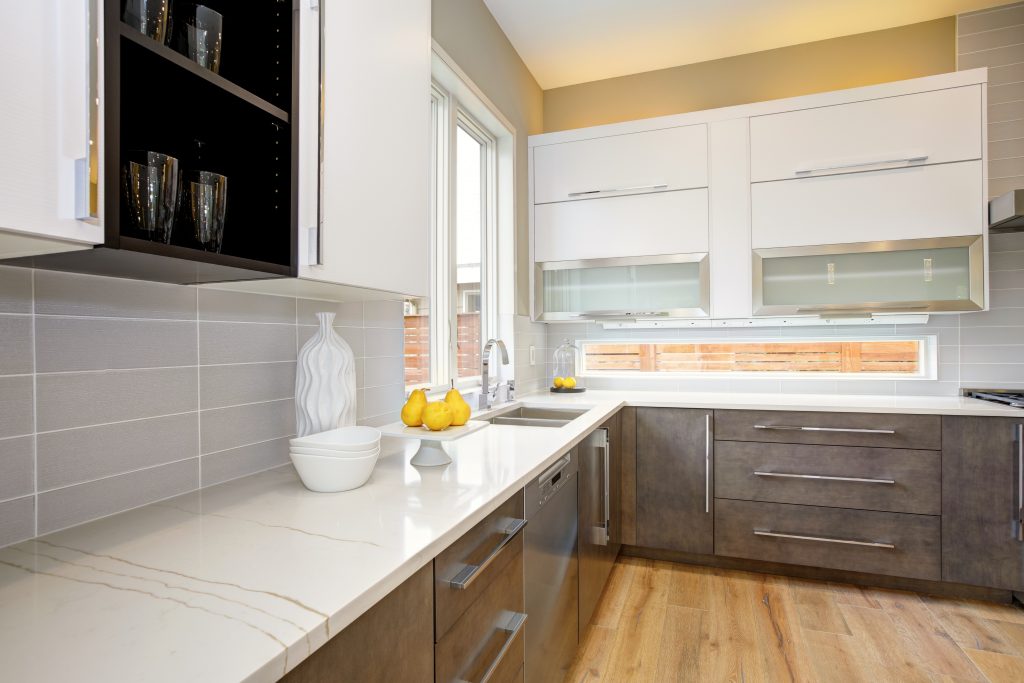 Kitchen surfaces and backsplashes are seeing the trend of high gloss and shine, or muted and natural. The glossy look pairs so well with a matte finish cabinet and kitchen island, and gives the needed contrast that separates the two. For backsplash, subway tile, 3d tile and mosaics add dimension to a space that's otherwise minimalistic, and is a great way to give it some texture. With countertops, granite and marble are still the go-tos in this category, it's just that the design and color palettes we're seeing being chosen are more bold, in that they're very light, or very dark. Black countertops look great in an all white kitchen, as does a white marble with its unique and random design. The safe days of neutral or earth toned countertops are seeing their way out.
STAINLESS STEEL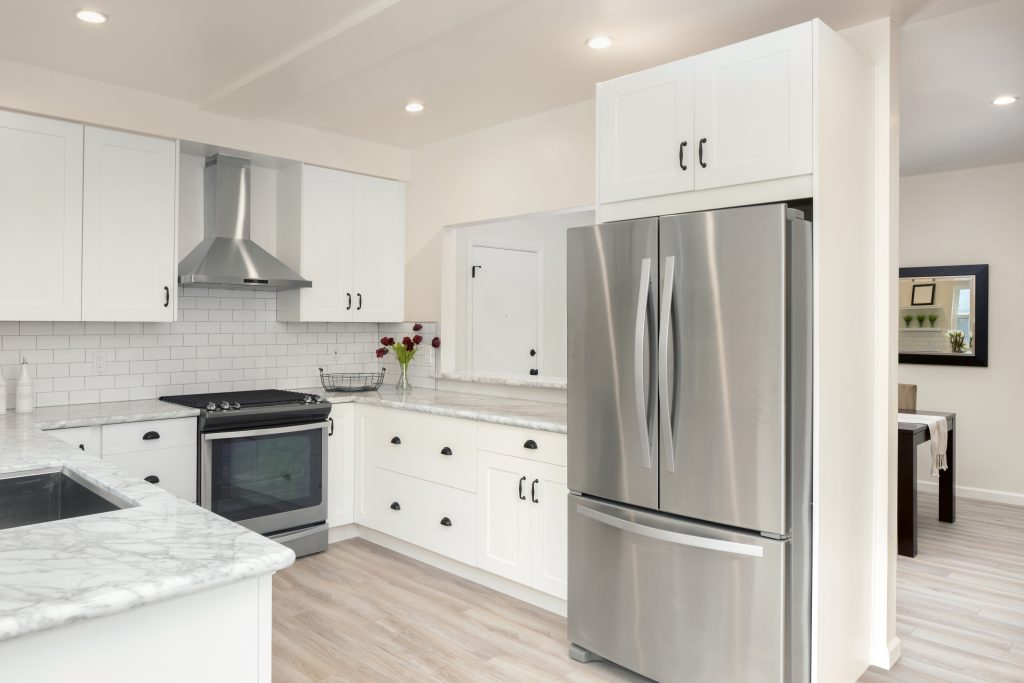 If you want your kitchen to look modern, and you're not customizing appliances to match the cabinets, then stainless steel is the way to go. Stainless steel isn't anything new in the kitchen design world, it's certainly been around; it's just that it used to be more high-end, and now it's widely expected. Meaning most people will purchase stainless steel appliances when renovating to sell their home because they know buyers are looking for it. The appliances should normally match, unless there is a purposeful design choice being made that makes sense for the look desired. We definitely see new and modern kitchen appliances in different colors, like black or red, and this can still have a very sleek and modern look — but you should be aware that it is a less common choice and may have an effect on your home's resale value.
We'll wrap it up by saying that modern doesn't necessarily mean cold and stark. There are plenty of ways to warm up a kitchen with finishing touches, like hardware in warm tones like gold and copper. Touches of color throughout, maybe in the backsplash or hanging light fixtures. Natural wood is beautiful and complementary with polished materials like marble, and is a top pick for cabinetry. Mid Century modern bar stools could be great to sit up at the kitchen island. Or something as simple as a big bow full of bright yellow lemons and colorful fruit. The idea is to have uniformity with touches of your personality and style, and this is very accomplish-able while still keeping the space neutral and clean. 
Written by: Tania Mahmoudpour